Outdoor Adventures Guide Service
(918) 758-9139
Oklahoma Striped Bass, Hybrid Striper, White Bass, & Crappie Fishing
~~* Eufaula Lake, Texoma Lake, Illinois River, Eufaula and Ft Gibson Dams *~~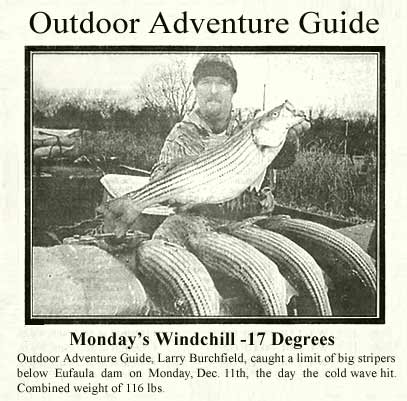 Daily Rates:
$350.00 per day for 1 to 2 people.*
Striper and Paddlefish fishing trips $400.00 per day 1 to 2 people.*
*$100.00 for each additional person (up to 4 people).
**$50.00 deposit required at time of booking.



If you would like to book a trip or inquire about any of the services listed on the site please feel free to contact us @ (918)758-9139, email us at skyfish01@aol.com.
Year Round Fishing Action:
| Species | Dates | Locations |
| --- | --- | --- |
| Striped Bass | Seasonal | Eufaula Dam, FT Gibson Dam, Lower Illionis River |
| Hybrids | (May - July) | Skiatook |
| Sand Bass | (April - Sept) | Eufaula |
| Catfish | (Dec - Feb) | Eufaula |
| Crappie | (Year Round) | Eufaula |
| Paddlefish | Seasonal | Chouteau Bend |
All equipment furnished:
20' Preadator Boat (2-4 people), Licensed Guide, Rods, Reels, Bait and Tackle.
Why hire a guide?
Absolutely the easiest way to go fishing! Just sit back and relax! We provide everything you need to have an enjoyable outdoor fishing adventure.
We provide:
A 20 ft. preadator Boat for your safety and comfort, equipped with the latest electronic depth and fish locating sonar equipment available.
All rods, reels, tackle, lures and bait.
Trips Include 5 to 6 hours fishing.
Morning and Afternoon trips Available.
Your 'catch' filleted and bagged for your 'ultimate' fish fry.
You furnish:
Fishing license. ( resident or non-resident )
Note: Please purchase licenses prior to the morning of the trip since local stores are closed in the early morning hours.
Ice chest with your choice of food and drinks and for your fillets after the trip.
Wet weather and seasonal clothing. Wind chill and spray from waves can be uncomfortable in cool weather!
water-resistant camera to record your Outdoor Fishing Adventure!
Resident License Fees
Non-Resident License Fees
Fishing (Annual)
$20.00
1/1-12/31
Fishing (Annual)
$37.00
1/1-12/31
Combo, Fishing & Hunting
$37.00
1/1-12/31
Fishing (5 Days)
$18.50
5 Consecutive Days
Lifetime Fishing
$200.00
Lifetime
Trout
$10.00
1/1-12/31
Lifetime Combo, F&H
$750.00
Lifetime
Lifetime Fishing
$250.00
Lifetime
Sr. Citizen (Lifetime)
$6.00
Lifetime
Lifetime Combo F&H
$650.00
Lifetime
Sr. Citizen F&H (Lifetime)
$10.00
Lifetime
Blue River Passport
$21.00
1/1-12/31
Disability Fishing License
$10.00
Five (5) Years